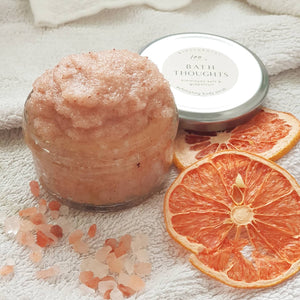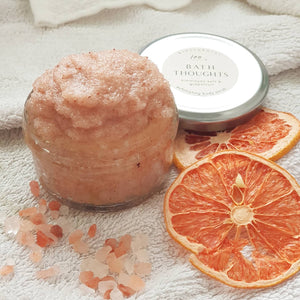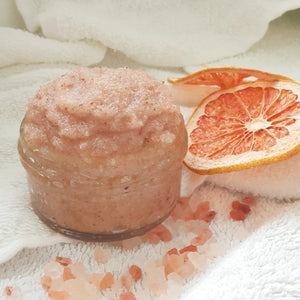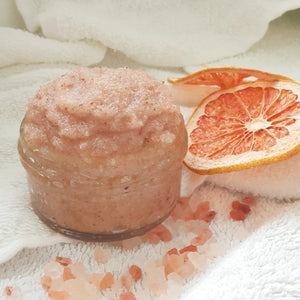 Bath Thoughts Body Scrub - Himalayan Salt & Pink Grapefruit
A luxurious exfoliating scrub to accompany your bath time thoughts. 
Emulsifies upon contact with water into a lotion, leaving you with silky smooth skin and no oily residue.
Skin nourishing, packed with essential fatty acids and Vitamins E and A, and scented with delicious grapefruit essential oil.

The star ingredient is antioxidant rich watermelon seed oil, that also balances moisture in the epidermis and removes dirt and impurities.

Linger a little longer in the shower, your skin and soul will thank you for it.

Weight: 80g
Complimentary wooden spoon included.
No Artificial Colouring. No Synthetic Fragrances. No Nasties. 
Ingredients: Himalayan Salt, Sucrose, Sweet Almond Oil*, Emulsifying Wax (Plant Based), Cetyl Alcohol (Plant Derived), Shea Butter*, Watermelon Seed Oil*, Grapefruit Essential Oil, Sweet Orange Essential Oil, Leuconostoc/Radish Root Ferment Filtrate or Plantaserv E (Phenoxyethanol)
*certified organic
Usage: Scoop desired amount and gently massage onto wet skin. Wet skin a little more if scrub is not emulsifying enough. Rub the creamed scrub over your body for silky smooth skin.