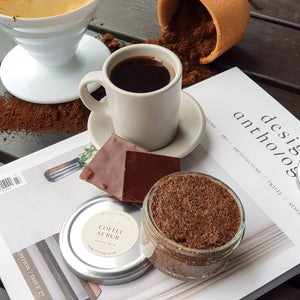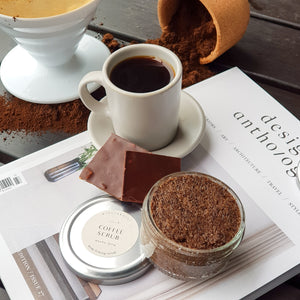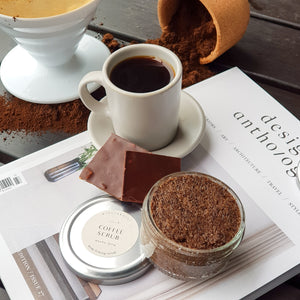 Collagen Boost Mocha Latte Coffee Scrub
A delicious anti-aging exfoliating scrub that firms and brightens the skin. Emulsifies upon contact with water into a lotion, leaving you with silky smooth skin and no oily residue.
Packed with essential fatty acids and Vitamins E and A, cocoa butter hydrates and nourishes the skin, leaving it smooth while increasing elasticity. 
Caffeine is rich in caffeic acid which stimulates collagen production. It also promotes lipolysis, breaking down fat stored in cells and reducing the appearance of cellulite.
The star ingredient is green coffee bean oil which not only has a high concentration of Vitamin E but also powerful antioxidants that protect against free radicals and encourage cell renewal.
Scented naturally with cocoa butter, coffee and vanilla, this toning and brightening scrub will give your skin a boost of energy - with the toasty, warm aroma of coffee for a sensory bath time experience.
Plus, the coffee grounds in this scrub are upcycled from your favourite cuppa! Love yourself a little, love the environment a little more, and help us and the world work toward reducing wastage.
Weight: 80g
Complimentary wooden spoon included.
No Artificial Colouring. No Synthetic Fragrances. No Nasties. 
Ingredients: Sucrose, Upcycled Coffee Grounds, Emulsifying Wax (Plant Based), Cetyl Alcohol (Plant Derived), Virgin Coconut Oil, Sweet Almond Oil, Cocoa Butter*, Shea Butter, Green Coffee Bean Oil*, Vanilla Oleoresin, Leuconostoc/Radish Root Ferment Filtrate or Plantaserv E (Phenoxyethanol)
*certified organic