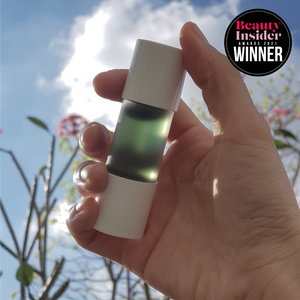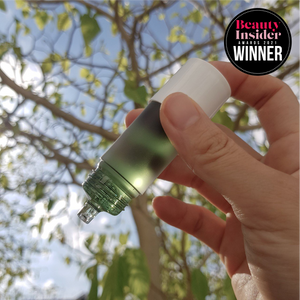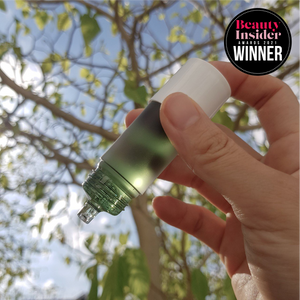 Turquoise Luxe Nail + Cuticle Oil
Packed with all natural botanical oils of Apricot Kernel, Rosehip, Evening Primrose, Argan, Sweet Almond, Olive, Jojoba, and Coconut, this luxurious nail strengthening cocktail of antioxidant and Vitamin A, C and E rich oils not only helps in repairing brittle nails and healing cracked skin but also promotes circulation in the nail bed and deeply nourishes cuticles. It is also low on the comedogenic scale so you don't get greasy hands after.
Keeping cuticles in the pink of health is also the best prevention against pesky hang nails that could potentially get inflamed. Nails are also less likely to break or chip, and manicures last longer. Say goodbye to dry dull raggedy cuticles and say hello to fuller, radiant, healthy peachy nails!
The superstar ingredient Blue Tansy, which contains azulene, gives this oil its beautiful hue. It is famously anti-inflammatory, skin calming and keeps delicate skin glowy and healthy.
Scented with essential oils of Lavender, Geranium, and Blue Tansy, this all natural oil is mellow and calming with floral and fruity overtones, making it an olfactory treat to apply every time. It has a unique user-friendly drip design in a cylindrical bottle that helps in mess-free application.
Volume: 17.5ml
No Artificial Colouring. No Synthetic Fragrances. No Nasties. 
Ingredients: Cocos Nucifera (Coconut) Oil, Prunus Amygdalus Dulcis (Sweet Almond) Oil, Simmondsia Chinensis (Jojoba) Seed Oil*, Olea Europaea (Olive) Oil*, Prunus Armeniaca (Apricot) Kernel Oil*, Rosa Canina (Rosehip) Seed Oil*, Oenothera Biennis (Evening Primrose) Oil*, Argania Spinosa (Argan) Oil*, Vitamin E Tocopherol, Therapeutic Grade Essential Oils (Blue Tansy, Lavender, Geranium)
*certified organic
Usage: Use 1-2 drops per hand when nails or cuticles are dry and dull. Use twice daily for pink peachy radiant nails and cuticles. Suitable for all skin types.
Beauty Insider Award Winner - Best Nail Care 2021, Best Nail Treatment, Beauty Insiders' Choice