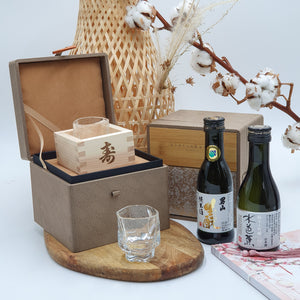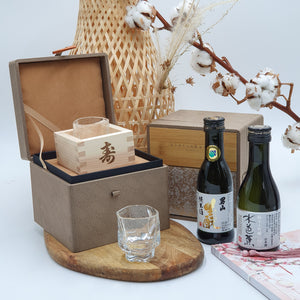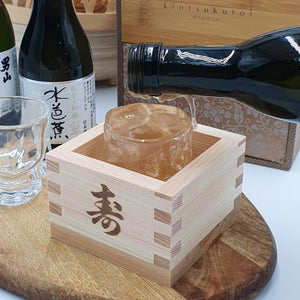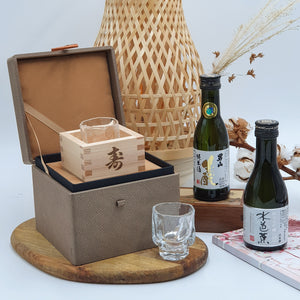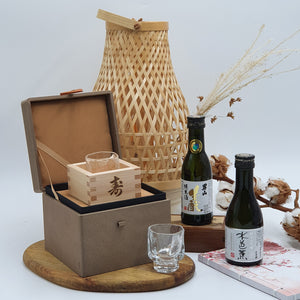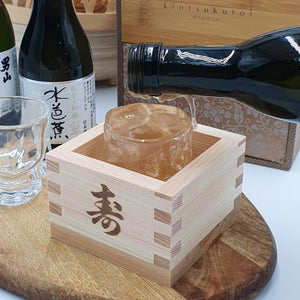 Wabi Sabi Sake Masu Gift Set
This gift set consists of a masu cup (wooden box cup) and a wabi sabi style sake glass in a wafu cushion padded gift box. Masu means 'square' or 'measure', but is also a phonetic play on words to mean to rise or fill up. 
Experience the traditional practice of mokkiri, where the sake glass sits inside the wooden masu cup and nihonshu is poured into the glass until it spills over into the masu. This overflowing is symbolic of generosity and prosperity, and is considered to be an auspicious ritual in Japanese culture in appreciation and celebration. Many izakaya still continue this practice to show a special hospitality to their guests. Sake can be drunk from both the masu and sake glass.
Our masu is sourced from Gifu prefecture and crafted using hinoki (Japanese cypress). It has purifying and anti-bacterial properties and is also known to complement traditional style sake because of its clean natural wood scent. Kotobuki 寿, the Japanese character symbolizing long life, felicitations and good wishes, is hand branded by the artisan.
Be it celebrating thanksgiving with family or welcoming the new year with friends, this sake masu set is a sensory and mindful treat to experience a ritual of appreciation and gratitude for the blessings we have in our lives, and to keep warmth and generosity in our hearts.
Each Wabi Sabi Masu Sake Gift Set includes:
1 x Kotobuki Wooden Masu Cup
1 x Wabi Sabi Sake Glass
1 x Premium Kintsukuroi Studio Wafu Gift Box
Introducing Our Sake Specials!
- Kimoto Tokubetsu Junmai 180ml (Otokoyama in Hokkaido Prefecture) - Full bodied with a rounded aroma of rice and a hint of plum and cherry. Smooth and dry, it goes perfectly with sushi and sashimi!
- Sake Upgrade: *Served on Singapore Airlines First Class & Suites* Mizubasho Junmai Daiginjo Sui 180ml (Nagai Shuzo in Gunma Prefecture) - Soft, pure nose of Mizubasho flower, with notes of momo and pear. This is a must try!
Pre-order for your Christmas gifting now! 🎁🎄🤶🎅 Pre-orders will be fulfilled in early/mid December. Do let us know your preferred delivery date range if otherwise. Thank you!