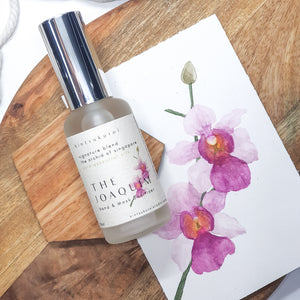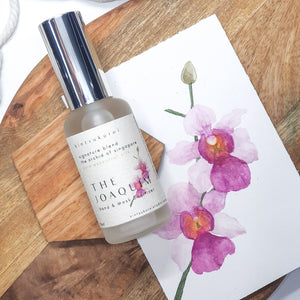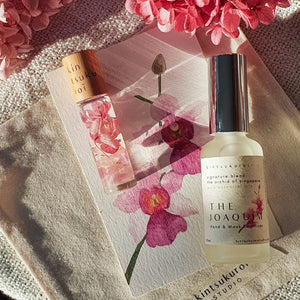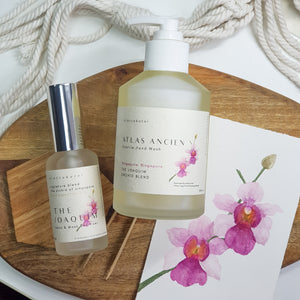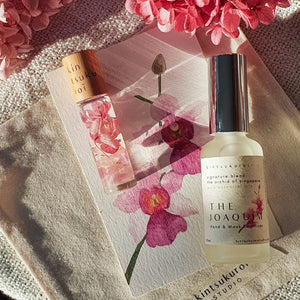 The Joaquim Orchid Blend Hand & Mask Sanitizer
No nasties, no harsh chemicals
Keeps your hands hydrated and germ free
Disinfects and deodorizes cloth masks
The Joaquim Singapore Orchid Blend with delicate complex floral notes and undertones of honey spice and musky amber

50ml glass spray bottle
A hand sanitizer that is also a mask disinfectant and deodorizer. The Vanda Miss Joaquim was selected to be Singapore's national flower in 1981. It is a free flowering orchid hybrid known for its vibrant beauty and resilience. The Joaquim Singapore Orchid Blend is a delicately nuanced soft floral with undertones of warm spice and musky amber, bringing comfort and calm to the senses.
We worked with local watercolour artist Chloe Tang from Flowering Words on the illustration of the beautiful orchids printed on our labels. She is a young self taught artist and modern calligrapher who is talented in both handcrafted and digital art. The Joaquim has been brought to life in her hands!
Most alcohol-containing commercial hand sanitizers tend to dry out the skin. Even though our sanitizer contains alcohol, our formula also includes an organic moisturizer that keeps your skin germ-free, supple, and smelling divine.
Scent profile: Soft florals of orchid, white jasmine and neroli, with subtle honey spice tones of saffron, and the earthiness of patchouli, labdanum and amber
Volume: 50ml
Ingredients: Isopropyl Alcohol (70% Final Concentration), Aqua, Organic Glycerin (Plant Derived), Pure Therapeutic Grade Essential Oils (The Joaquim Singapore Orchid Blend)