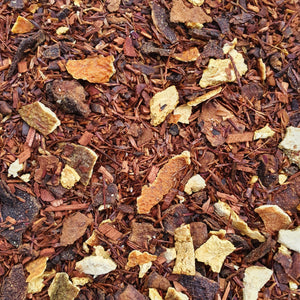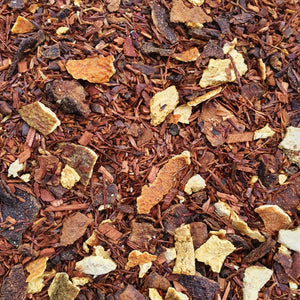 Cedarberg Honeybush Rooibos Grounding Tisane
A grounding earthy blend of South African rooibos and honeybush teas grown in the foothills of the Cederberg mountains in the Western Cape fynbos. Rooibos, meaning red bush in Afrikaans, was used in indigenous herbal remedies and was relished for its hearty, delicious, aromatic taste.
Paired with tangerine peel, hibiscus and rosehip, this caffeine-free blend is a flavorful herbal tea with notes of bush honey, citrus, wildflowers and bourbon vanilla. Tannin levels are very low, which produces a smooth, non-astringent taste regardless of the steeping time.
Packaged in a Kintsukuroi Studio glass tea tube.
Ingredients: Organic Rooibos, Organic Honeybush, Tangerine Peel, Apple Pieces, Hibiscus Petals, Rosehip Shells
Weight: 20g (Makes 10-12 cups of tea)
Directions: Put 1-2 teaspoons of loose leaf tea into a tea pot or tea infuser and steep for 3-5 minutes in 200-300ml of boiled water.