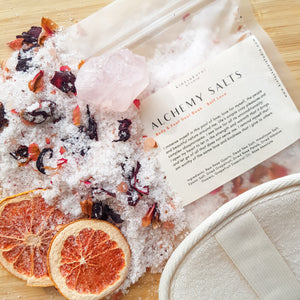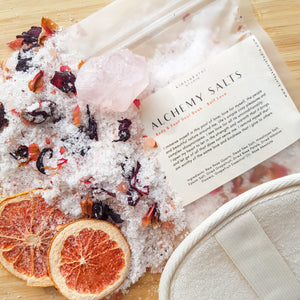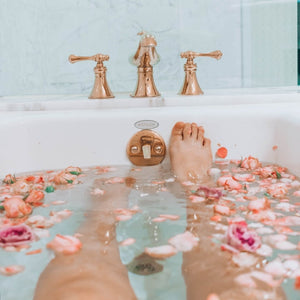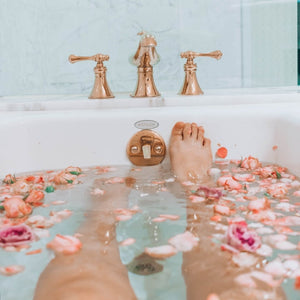 Alchemy Crystal Salts - Self-Love
Through a process of transformation and creation, 
I constantly remind myself of the person whom I want to be. I may not be there yet, but I will be the love that I want to receive on my journey. Paired with raw rose quartz crystals, these salts remind the soul of the love that it deserves, in opening the heart to give and receive with forgiveness and kindness.
These body and foot soaking salts help to soothe the mind and muscles
. Magnesium in Epsom salts eases muscle tension, reduces inflammation, and cleanses energy from fatigue. Combined with mineral rich dead sea salt and Himalayan salt, these soaking salts are great for inner and outer healing. 
Alleviates stress, pain, and inflammation, h

elps with body aches

High in magnesium
Balances pH levels 
Soothes muscle and relieves cramping
High in natural minerals - calcium, potassium, magnesium, and other minerals not found in regular salt
Scented with grapefruit and rose essential oils, with natural fragrances from dried grapefruit, rose, and hibiscus flowers.

Pour desired amount in bathtub or foot bath for a warm, relaxing, sensory experience that nourishes the mind, body and soul. Comes with a natural loofah scrub pad to scrub your worries away.
- SELF-LOVE -
I immerse myself in this pool of love; love for myself, the people and beautiful nature around me, life's simple cosy pleasures and complex idiosyncrasies. I see love for all its unconditionality; I open my heart to let in the strength and warmth that it brings, and let go of all that does not serve me. I remind myself that I am worthy of the same love and kindness that I give to others.
Included:
Raw Rose Quartz Crystals
Natural Loofah Scrub Pad
Weight: 250g

All Natural. No Nasties. No Synthetic Fragrances.

Ingredients: Raw Rose Quartz, Dead Sea Salt, Himalayan Salt, Epsom Salt, Dried Grapefruit, Dried Rose Petals, Dried Hibiscus Flowers, Grapefruit Essential Oil, Rose Absolute