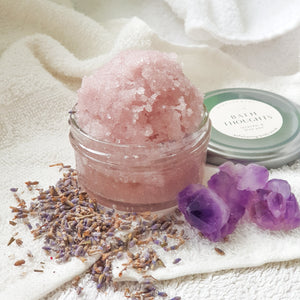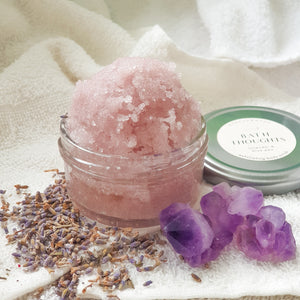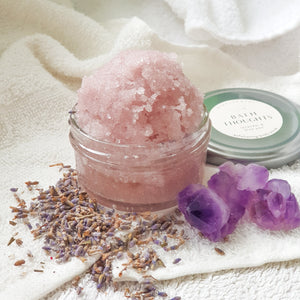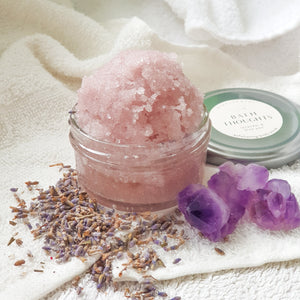 Bath Thoughts Body Scrub - Lavender & Blue Pea
A luxurious exfoliating scrub to accompany your bath time thoughts. 
Emulsifies upon contact with water into a lotion, leaving you with silky smooth skin and no oily residue.
Skin nourishing, packed with essential fatty acids and Vitamins E and A, and scented with soothing lavender essential oil.
The star ingredient is antioxidant rich passionfruit seed oil, that also r
educes inflammation and free radical damage to dry skin. Blue butterfly pea is also high in polyphenols and flavonoids that help with collagen synthesis.
Linger a little longer in the shower, your skin and soul will thank you for it.
Weight: 80g
Complimentary wooden spoon included.
No Artificial Colouring. No Synthetic Fragrances. No Nasties. 
Ingredients: Sucrose, Sweet Almond Oil*, Emulsifying Wax (Plant Based), Cetyl Alcohol (Plant Derived), Shea Butter*, Passionfruit Seed Oil*, Blue Butterfly Pea Powder, Blueberry Powder, Lavender Essential Oil, Leuconostoc/Radish Root Ferment Filtrate or Plantaserv E (Phenoxyethanol)
*certified organic
Usage: Scoop desired amount and gently massage onto wet skin. Wet skin a little more if scrub is not emulsifying enough. Rub the creamed scrub over your body for silky smooth skin.