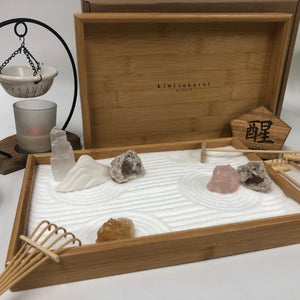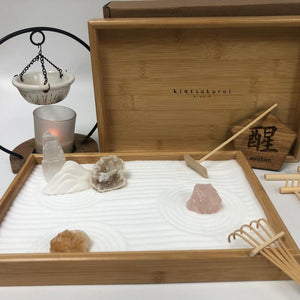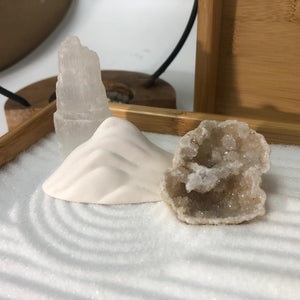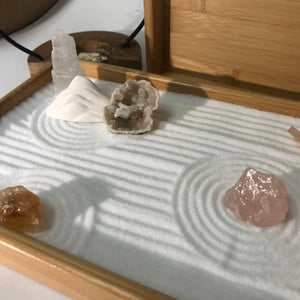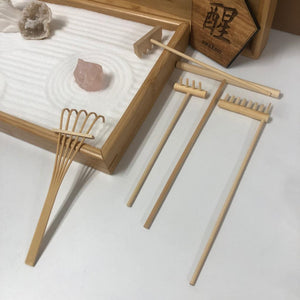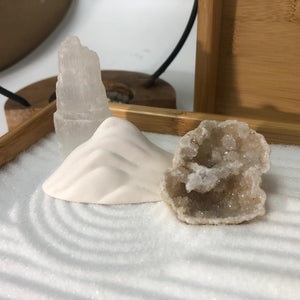 Karesansui Zen Sand Garden Contemplation Kit
K A R E S A N S U I  かれさんすい | 枯山水
Karesansui, which translates to "dry landscape", refers to gardens of raked sand or gravel originating in the Kamakura period in Japan. The aesthetic principles behind the sand patterns are the beauty of blank or negative space - which stokes the imagination to visualize the unseen - and the transient nature of this beauty.
A mini desktop zen garden kit to create your own sanctuary in your room or office. A safe quiet space for contemplation and meditation, bringing moments of calm, mindfulness, and reflection into the day. Feel the mind begin to focus while the soul unwinds. Take in the texture and fluidity of the sand, feel the calmness in the sounds of the rake, and let the flow of energy from the crystals guide you.
Each Zen Garden Contemplation Kit includes:
1 x Kintsukuroi Bamboo Tray
1 x Zen Garden Sand Pack
1 x Bamboo Tool Set
1 x Clay Cloud Mountain (Doubles as a cold diffuser - drip some essential oil on it to elevate your contemplation activity)
1 x Clear Quartz Geode - A master cleanser for diffusing and balancing negative energies. Clears and calms the mind, providing clarity and insight

1 x Raw Citrine - A light positive energizing crystal that is as abundant and radiant as the sun. Aids in confidence and pursuing personal goals
1 x Raw Rose Quartz - A gentle healing crystal that promotes feelings of love and empathy. Aids in emotional healing
Listen to our Karesansui Spotify Playlist here.
Add-on Specials:
- 5ml Pure Essential Oil (Choose from
Eucalyptus/Lemongrass/Himalayan Cedarwood)