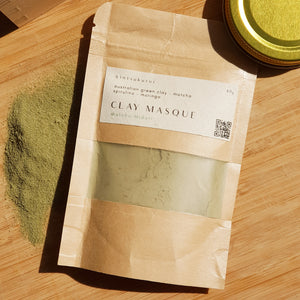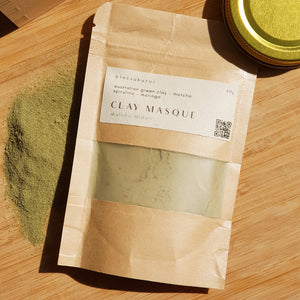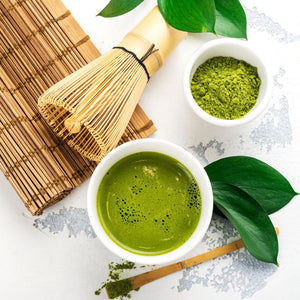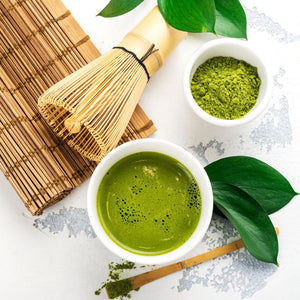 Matcha Midori Purifying Masque
Clay cleansing masques have been used since the ancient times in healing beauty rituals and are known for removing toxins and drawing out impurities from deep in the dermis. They are natural remedies that tone and brighten the skin, reducing redness from inflammation and bringing out its natural glow. Use as a treatment masque or as a gentle exfoliating cleanser.
This Matcha clay masque with Spirulina, Moringa and Wheatgrass is a skin clearing and pore minimising combo that also helps reduce puffiness. With its detoxifying and anti-inflammatory properties, it is best suited to oily and blemish prone skin. Scented naturally with the fragrant earthy tones of Uji matcha leaves.
Bentonite Clay - Draws out impurities and cleanses grime and excess sebum from pores, stimulates circulation and helps heal blemishes 
Uji Matcha* - Anti-bacterial, helps with inflammation and evening out skin tone. Rich in antioxidants which increase skin elasticity and prevent premature aging
Wheatgrass* - Rich in chlorophyll, amino acids and minerals. Skin clearing and brightening, promotes a toned, even complexion. Suitable for acne-prone and sensitive skin
Spirulina- Helps reduce redness, acne and soothes skin. Promotes skin healing by fighting free radicals, and inhibits bacterial growth
Moringa* - Rich in Vitamins A, C, and E. Brightens and hydrates skin, and boosts collagen production
Colloidal Oats* - A gentle exfoliant that helps the skin retain

 

moisture and ease inflammation
Jojoba Oil* - Natural face oil conditioner as it is the oil that is most similar to our body's natural sebum. Seals with a protective moisture retaining barrier.
Suitable for all skin types. Particularly beneficial for oily, combination or acne prone skin.
Usage:
Treatment Masque - Use the wooden spoon to mix a small amount with water or honey to form a paste. Apply evenly using wooden spoon on face and neck except eyes and nostrils. Relax for 5-8 minutes as the clay dries. Rinse off with warm water and moisturize as usual. Excess clay paste can be used on the body. Use 1-2 times a week or when the skin needs deep cleansing, brightening or detoxification.
Gentle Exfoliation Cleanser - Mix with a small amount of water or face oil and gently massage the skin to cleanse off dirt and excess sebum.
No Artificial Colouring. No Synthetic Fragrances. No Nasties. 
Packaged in a resealable craft paper bag with complimentary wooden spoon included. Avoid mixing clay masque with metal utensils as the properties of the clay may be affected.
Weight: 15g / 40g
Ingredients: Australian Kaolin Clay, Bentonite Clay, Camellia Sinensis (Matcha) Powder*, Spirulina Platensis (Spirulina) Powder, Moringa Oleifera (Moringa) Leaf Powder*, Triticum Aestivum (Wheatgrass) Powder*, Colloidal Avena Sativa (Oat Kernel)*, Simmondsia Chinensis (Jojoba) Seed Oil*
*certified organic