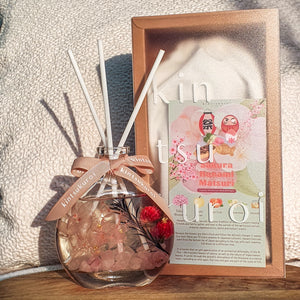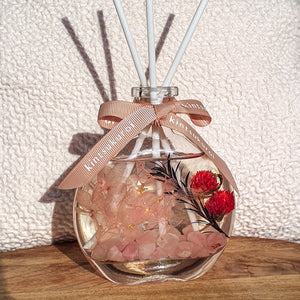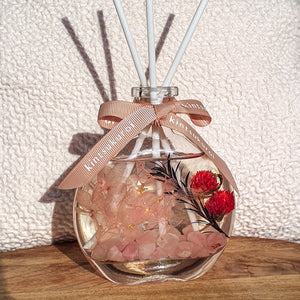 Sakura Hanami Spring Matsuri Crystal Herbarium Reed Diffuser
Hanami is the centuries-old Japanese tradition of cherry blossom viewing. Friends and family gather and bask in the warmth of the spring sun and air, enjoying Japanese picnic, bento and matsuri snacks.
Because the blooms are short-lived and follow the delicate changes in season (there are 72 micro seasons in Japanese culture!), hanami festivals start from the bottom tip of Japan spreading to the top, with each reaching full bloom at a different time.
It is herein that we gain appreciation of an existential philosophy of life in flux - the transient beauty of nature, as well as the nature of impermanent beauty. A stroll through the peaceful atmosphere of the blossoms is a mental reset, reminding us once again that loss and gain are part of the cycle of life.
Scent profile: Sakura Cherry Blossom, Nashi Pear, Apricot, Tuberose, Umeshu
With Madagascan rose quartz, dried botanicals and 24K Gold. Rose quartz is a stone of growth and a gentle balanced love, manifesting a healing energy that brings purpose through the past, present and future.
Comes with a Kintsukuroi Studio cotton drawstring pouch in a gift box. Best used with our premium fibre reeds (included).
Volume: 120ml