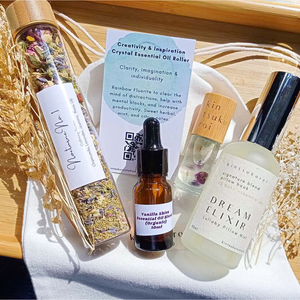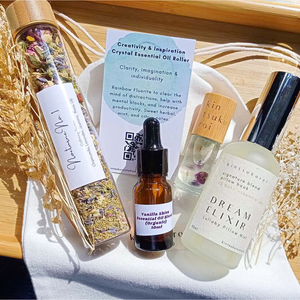 Sensei Arigatou Gift Set (Mentor's Day 50% OFF)
Treat yourself or someone you love to a meaningful and thoughtful gift. Show your appreciation with the Sensei Arigatou Gift Set and get 50% savings! ♡ Ends 1 Sep
Celebrate the special mentor in your life with our Sensei Arigatou Gift Set. This sophisticated and exclusive bundle contains a relaxing organic essential oil blend, a pillow mist to drift off to sleep, and a botanical tea for a refreshing break. A tasteful and elegant gift to thank your cherished teacher.
To the mentors who have shown us guidance, patience, and support in our navigation through life, who share valuable wisdom and direction at crucial crossroads in the journey - thank you for always believing, せんせい ありがとう! 🦉
Included in this set:
1 x (NEW!) Vanilla Skies Organic Essential Oil Blend (10ml) - Vanilla, clary sage, lemongrass, eucalyptus, palmarosa and cedarwood essential oils. This aromatic blend instantly elevates the senses and uplifts the mood, leaving you feeling rejuvenated and at ease.
1 x Dream Elixir Lullaby Pillow Mist
1 x Your Choice* of Botanical Tea / Tisane (Jumbo Tube)
1 x Message Card
1 x Kintsukuroi Studio Cotton Drawstring Pouch
Elevate your gift set with this optional add-on for only $9! (U.P. $18-23 each):
*Not sure which to pick or fancy a surprise? Let the universe's intuition choose for you. The crystals that share your vibrations will naturally come to their place by your side.
All Natural. No Nasties. No Synthetic Fragrances.
Note: All other discount codes do not apply to this bundle