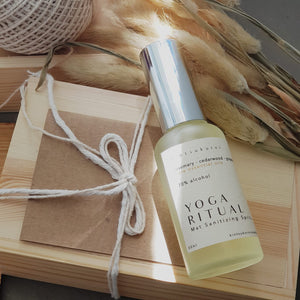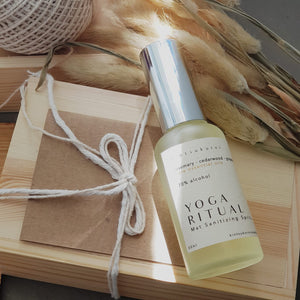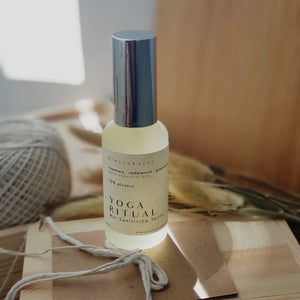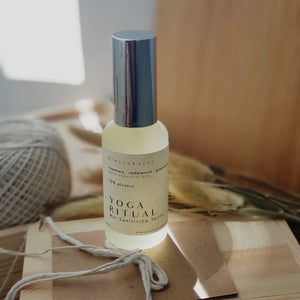 Yoga Ritual - Mat Sanitizing Spritz
All natural - No harsh chemicals
Effective disinfectant - 70% alcohol

Gentle and moisturizing
Multi-purpose - Suitable for use on both hands and surfaces
Antibacterial, anti-fungal, anti-inflammatory

50ml glass spray bottle
Refresh and disinfect your yoga mat with an all natural sanitizer that kills germs effectively, is gentle on the skin, and doesn't damage your mat. Commercial cleaners contain harsh chemicals that are neither good for your skin nor for your mat. 

As part of yoga ritual, spray and wipe yoga mat down before and after each self-love session.
Our natural sanitizer also doubles as a workspace, keyboard and fabric sanitizing spray, keeping your surroundings cleansed and energised.
Can this be used as a hand sanitizer? Absolutely. Most alcohol-containing commercial hand sanitizers tend to dry out the skin. Even though our sanitizer contains alcohol, our formula also includes an organic moisturizer that keeps your skin germ-free, supple, and smelling divine.
Essential oils of Lavender, Rosemary, Cedarwood and Grapefruit have antibacterial, anti-fungal and anti-inflammatory properties, in addition to calming and uplifting aromatic effects. 
Volume: 50ml
Ingredients: Isopropyl Alcohol (70% Final Concentration), Aqua, Organic Glycerin (Plant Derived), Pure Therapeutic Grade Essential Oils (Lavender, Rosemary, Cedarwood, Grapefruit)