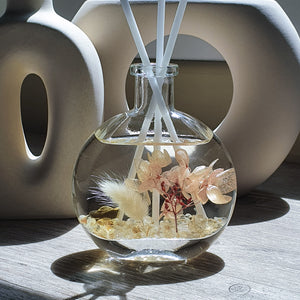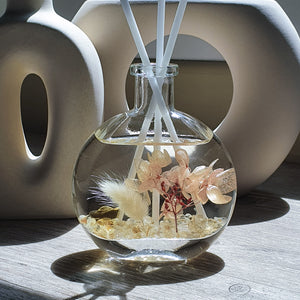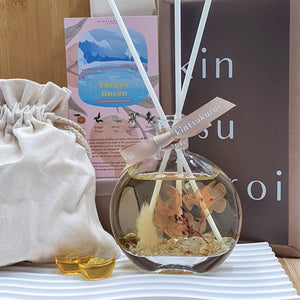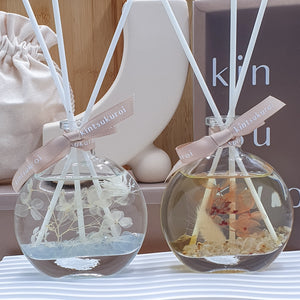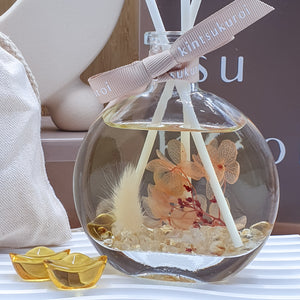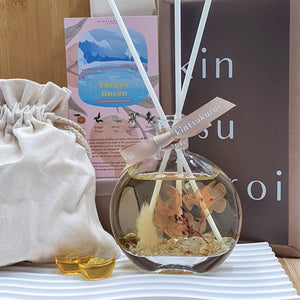 Yuzuyu Onsen Crystal Herbarium Reed Diffuser
Visualise taking an outdoor yuzu onsen bath in the crisp winter air, a pot of aged white tea brews while you look out onto the bamboo forest. These scents intermingle and bring to mind an oasis of peace and zen.
Yuzu, or citrus junos, has a tart floral freshness that reminds many Japanese of winter because it starts to ripen when the weather turns cold. There is an old tradition of taking yuzu baths, called yuzuyu 柚子湯, on the winter solstice in midwinter at the height of the yuzu harvest season. Many onsen add whole yuzu fruit to the spring water - the incredibly sprightly and fragrant oils released not only relax the mind but also aid the body's circulation. This practice is believed to bring good fortune for the new year and fend off bad energy as well.
Scent profile: Yuzu, Ginger Flower, White Tea, Bamboo, Hinoki
With citrine, a mini citrine ingot and dried botanicals. Citrine is a crystal that welcomes success, prosperity and abundance. It manifests a positive and vibrant flow of energy in the mind for good luck (luck is when preparedness meets opportunity - put yourself in a position to have luck!)
Comes with a Kintsukuroi Studio cotton drawstring pouch in a gift box. Best used with our premium fibre reeds (included).
Volume: 120ml