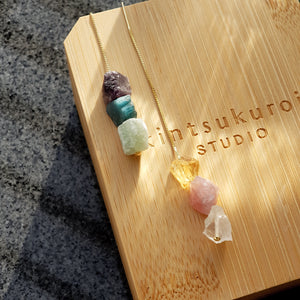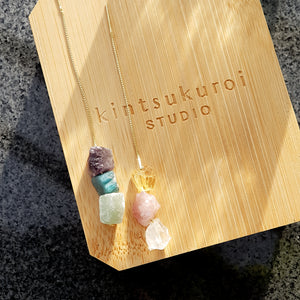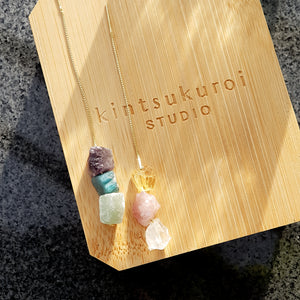 Reagen Raw Crystal Rainbow Earrings (PRIDE SPECIAL)
Asymmetrical raw crystal earrings that are minimal, dainty and add an understated sparkle to your look. Wear them long or short to suit your OOTD! Due to the nature of the crystals, each stone is unique in shape and colour.
Inspired by a rainbow of inclusivity and diversity, we proudly celebrate a universal love with all the people of the world, a love that is beautifully raw, unjudgmental, and all embracing.
Unpolished, natural crystals represent a state of raw energy - the one that we were born with, the one that we were born without, the one that makes us who we are, the one that we hope to be accepted for. The colours of the rainbow remind us of how we can be kinder in our thoughts and actions towards everyone.
Featuring Clear Quartz, Rose/Strawberry Quartz, Citrine, Green Aventurine, Blue Apatite and Amethyst on hypoallergenic 925 Sterling Silver plated with 14K Gold or White Gold. Comes in a premium Kintsukuroi Studio cushion padded bamboo jewellery box with a message card. Complimentary brown paper gift bag included. 
Wear your rainbow on your sleeve 🌈 while carrying an open mind, a loving heart, and a liberated soul.
Click here for more information on how to care for your S925 jewellery.
Earring Length: 9cm (adjustable to your preference)
Material: 14K Yellow Gold/White Gold Plated 925 Sterling Silver