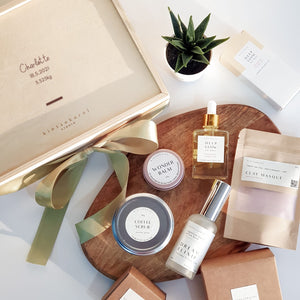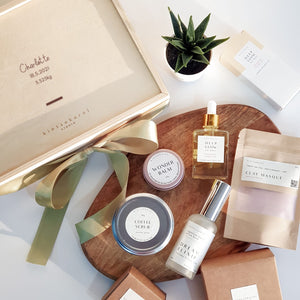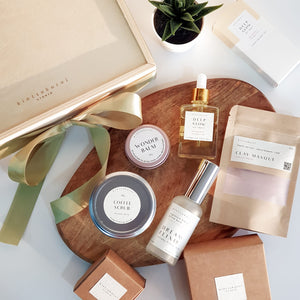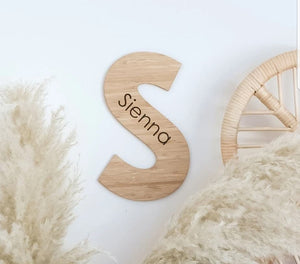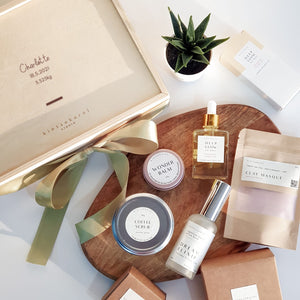 Demeter Chloë Mum & Bub Gift Box
Demeter, the Greek goddess of harvest and fertility, is the inspiration behind this box of luxury botanical essentials. Chloë, an epithet of Demeter, signifies new blooming, of new plant growth in spring, blessing mankind with the gift of life. This Mummy & Bubby Gift Box is thoughtfully put together to ease a new mum's post partum journey of recovery 💕
Each gift box includes:
1 x Dream Elixir Lullaby Pillow Mist - Soothe and relax the mind and body for a restful night's sleep with this blend of 12 therapeutic essential oils 
1 x Deep Glow Crystal Body Oil - With Rosehip, Pomegranate Seed, and Sea Buckthorn Seed Oils. Highly nourishing, restores skin elasticity and helps with hyperpigmentation, bringing out a soft radiant glow in the skin. Also suitable for body massages.
1 x Soft Plump Wonder Balm - Works wonders in soothing dry cracked nipples and other sensitive areas. Made with all natural botanical oils and butters.
1 x Collagen Boost Mocha Latte Coffee Scrub - Caffeine and antioxidant-rich Green Coffee Seed Oil help reduce the appearance of stretch marks and cellulite. Scented naturally with cocoa butter, coffee and vanilla, this toning and brightening scrub removes dead skin and encourages cell regeneration
1 x Mini Matcha Midori Purifying Masque or Sakura Blossoms Maiko Brightening Masque - Removes impurities and cleanses dirt, grime and dead skin cells from pores, stimulates circulation, leaving the skin smooth, supple and toned
1 x Handcrafted Wooden Box
1 x Message Card
All Natural. No Nasties. No Synthetic Fragrances.