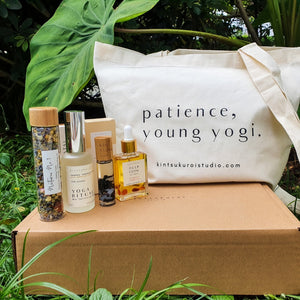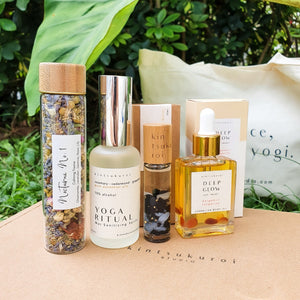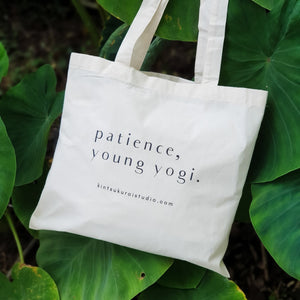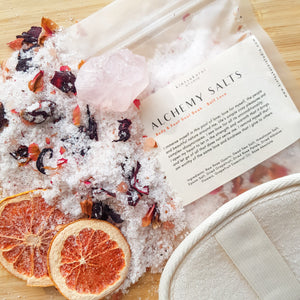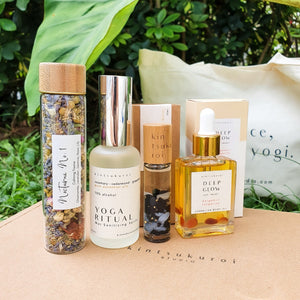 Patience Young Yogi Gift Kit
Namaste young yogi, in this kit you will find items of all natural care to accompany you on your journey of self-discovery and exploration. A grounding gift for the yogi who is on the path to strengthening the body, getting in touch with the inner self, and aligning the mind, consciousness and spirit.
Savasana, and may the prana be with you.
Each kit includes:
1 x Your Choice* of Crystal Essential Oil Roller
1 x Yoga Mat Sanitizing Spritz
1 x Deep Sleep / Deep Glow / Deep Relax Body Oil
1 x Your Choice of Tea or Tisane
1 x Yogi Cotton Tote Bag - A4-sized with long straps!
1 x Handwritten Message Card
Add-on Specials:
- 5ml Pure Essential Oil (Choose from Eucalyptus/Lemongrass/Himalayan Cedarwood)
- Selenite Mini Meditation Tower / Clear Quartz Geode / Raw Rose Quartz or Citrine 
- Alchemy Crystal Bath Salts (Self-Love / Intention)
*Not sure which to pick or fancy a surprise? Let the universe's intuition choose for you. The crystals that share your vibrations will naturally come to their place by your side.
All Natural. No Nasties. No Synthetic Fragrances.
Launch special! Get a free Dermaskinshop Birthday Kit (worth $40) with any purchase, no minimum spend ♡ While stocks last. More details on IG